Two Free Samples with Purchase at TooFaced.com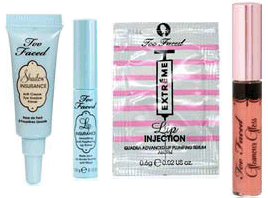 When you make a purchase at TooFaced.com, you'll have the option to choose 2 free samples as gifts with your order. Doesn't matter the size of the order, but just keep in mind that orders over $50 get Free Shipping! I checked the site today, and the samples offered are Shadow Insurance eye primer, Lip Insurance Lip Primer, Lip Injection Extreme Lip Plumping Serum, and Glamour Gloss in Flirt (Pink Mocha). If those are your fave products, take some samples home with you today!
Browse Two Faced Cosmetics' store online now and choose your 2 free samples!